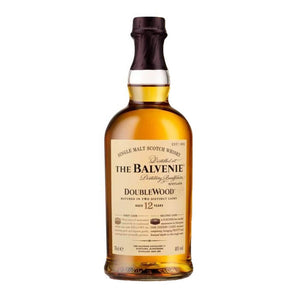 Balvenie believes in mastering and controlling the Five Crafts of whisky: barley, malt, stills, barrels and the malt master. They handle every aspect of creating The Balvenie 12 year Doublewood, from the first seed to the final approval of Malt Master David C. Stewart, whose nose and palate have been sharpened at the distillery since 1962.
The Balvenie presents the ultimate line of painstakingly crafted Scotch whiskies. The Double Wood ages 12 years in American Oak Bourbon barrels, then finishes in Spanish Oak Sherry casks. The final product carries the sweet fruit from the Sherry, charred notes from the Bourbon and the character of a meticulous crew of craftspeople. This Speyside whisky tastes fine after dinner or with a Maduro cigar.
The nose carries dark chocolate, raspberries and fresh bread. The taste blends berries and cherries with pepper and exotic spices. The finish is long and viscous with lingering hints of red fruit. The 12 Year is a great addition to your Scotch collection. You'll have some Highland, Islay, Lowland and Cambeltown, but this is one of the only whiskies you'll find aged in two different barrels.