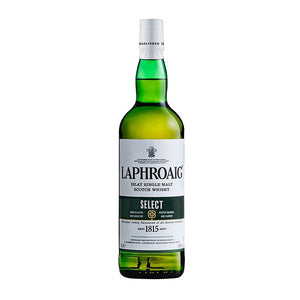 Touted as the most richly flavored Scotch whisky in the world, Laphroaig 10 Year is a classic peated drink from Islay. The scotch is full-bodied and smoky with a lovely residual sweetness that complements its hints of seaweed and salt. After noting its peaty characteristics, discover a warming finish that lingers in the throat and beckons the taster for more.
It's no secret that Scotland is renowned for its whiskies. Iodine-rich scotch from the Islay region is among the country's most characterful drams, with Laphroaig offering one of the most exceptional medicinal malts. The Laphroaig 10 Year is the company's entry-level scotch, which boasts a medium caramel color when poured into a glass. Scents of smoke, decay, salt, charcoal, leather and wet stone hit the nose, opening up to herbal ocean tones, peanut butter fudge and a sweet gumminess.
The first impression Laphroaig leaves on the palate is a playful dance between the salty and sweet. You'll note impressions of sea spray and breakfast porridge on the finish, fading to that classic smoky peat for which Islay whiskies are known.