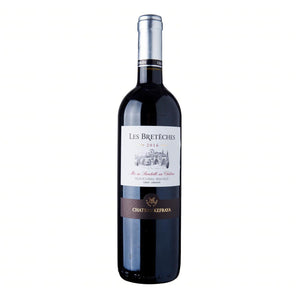 Lebanon's Cinsault has been growing in the Bekaa Valley for more than a century. In this respect, and bearing in mind the other exciting grapes that make up the blend, Les Bretèches is a quintessential Lebanese wine.
With a finely spiced nose of blackcurrant and cherry, it reveals silky tannins and generous red fruits flavors.
The launch of each vintage is celebrated with a limited edition label designed by a young Lebanese artist.
REGION Bekaa Valley,Lebanon
GRAPE VARIETIES Cinsaut, Syrah, Cabernet Sauvignon, Tempranillo and Carignan.
FOOD PAIRING Lebanese mezze, grilled meats as well as slightly spiced dishes.
TASTE Clear and bright, dark ruby. The first bouquet is fresh and of good intensity, revealing subtle notes of Morello cherry, pepper and licorice as well as spicy and slightly smoky notes. The second bouquet is more delicate offering notes of leather and blackcurrant, forest fruit, blueberry and vanilla. The nose is clear, flawless, delicate and complex.
ALCOHOL CONTENT 13.5%