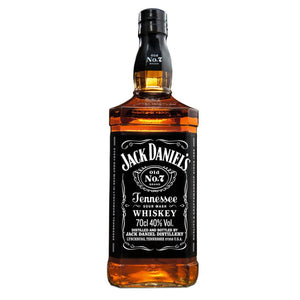 Jack Daniel's Old No. 7 was named by the man behind the brand, though no one knows the significance behind the lucky digit for this recipe. Old No. 7 is painstakingly mellowed a drop at a time through ten feet of sugar maple charcoal. The rich whiskey is then matured in handcrafted barrels in the famous Lynchburg, Tennessee distillery. Each barrel is carefully judged on its rich amber color, oaky aroma and unforgettable flavor before it's deemed ready for bottling.
Vanilla and caramel dominate this whiskey's aroma with a touch of oak that evokes images of those timeless barrels that have long housed this famous brand. The whiskey is medium-bodied with an easy, balanced palate that's sweet on the tongue with a signature hint of oak you'll feel at the back of the throat.
Jack Daniel's Old No. 7 is a top choice for mixing, thanks to its delicious balance. It won't overpower mixed drinks, but it won't leave them lacking either. The time-tested brand, founded in 1866, is the ideal choice for an Old Fashioned with bitters, sugar, and a little water. Make it a whiskey sour with simple syrup and your choice of lemon or lime.