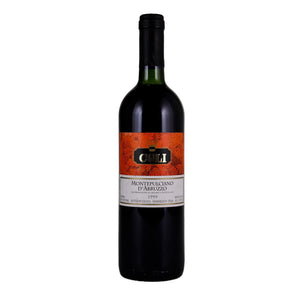 Production area
Delimited territory in the provinces of Chieti, Aquila, Pescara, Teramo.
Vine varieties
– 85-100% Montepuciano d'Abruzzo;
– Up to 15% of other wine grapes recommended and acknowledged by the administrative department of the area of production.
Wine making
The vinification must take place within the production area, the yield of pressing must not exceed 70% of the total juice available from the grapes.
Chemical analysis
– Alcohol: 12,5 %vol
– Total acidity: 5,5 – 6,5
Tasting characteristics
– Sight: Purple red with violet hue.
– Smell: Of pleasant intensity, with floral notes and vegetal hints like tobacco and grass cut green.
– Taste: Dry, with medium body and extract, slightly tannic and a bit agressive as characteristic peculiarity.