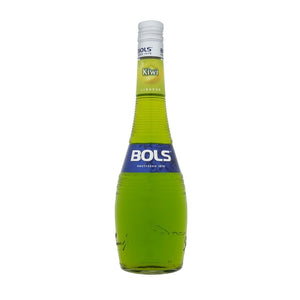 Bols Kiwi is a light green kiwi fruit flavoured liqueur. Although kiwi fruits (Actinidia chinensis) are more famous for their intriguing appearance and texture than their juice, kiwi fruit has become more popular in the global marketplace in the last few years.
Originally called yangtao in their native China, the fruit was re-named as "Chinese Gooseberry" when introduced into New Zealand in 1906. Exporters from New Zealand, looking for a marketing angle when they started selling them in the USA in the early 1960s, re-named them again as "Kiwi Fruit", a name that has stuck and has become synonymous with people from New Zealand.
Bols Kiwi delivers a full, fresh kiwi flavor with overtones of citrus and melon. The light green liqueur has a fantastically light, easy taste.
Bols Kiwi fits perfectly with the current trend for fresh fruit flavors and is perfect for a Kiwi Caipiroska and a Kiwi Collins.