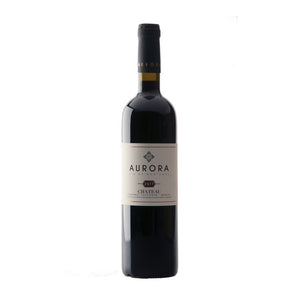 Aurora Chateau comes from our very first planted vineyards back in 2003. It is the only blend produced by the winery so far and has been inspired by the winemaker's passion for bordeaux blends. Located at 850 m altitude from the Mediterranean, these vineyards are carefully planted and dry farmed since day one. Using ecofriendly techniques, our vineyards have not been treated with any pesticides nor inorganic fertilizers.
The grapes are handpicked, typically the first and second weeks of September. Our goal is to pick at a maturity level that would provide optimal density and preserve the natural acidity and fresh aromas of the grapes.
The color is dense with purple reflections. Its nose detects black fruit and matured red fruit along with some scents of mocha and caramel likely from the ageing in oak barrels.
Its attack is exquisitely balanced in acidity and complexity, with a well-rounded mouth feel, and notes of mint and green on the finish.
TYPE Full-bodied Red Wine
ALCOHOL LEVEL 14%
GRAPE VARIETIES 50% Cabernet Sauvignon, 50% Merlot
REGION North,Lebanon
FOOD PAIRING Beef - Lamb, Strong cheese